West of Ireland Amateur Championship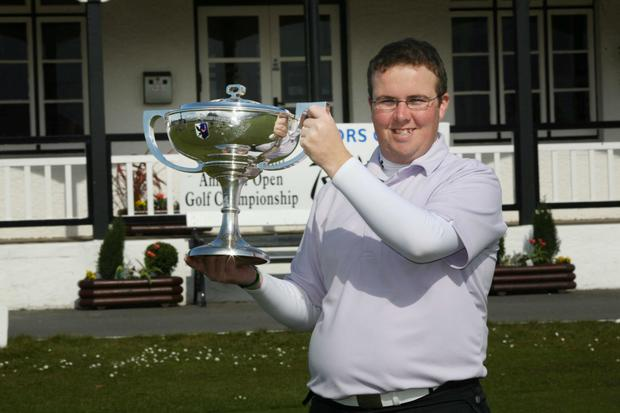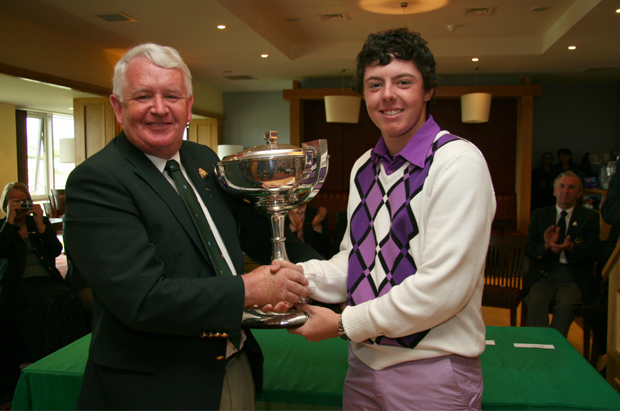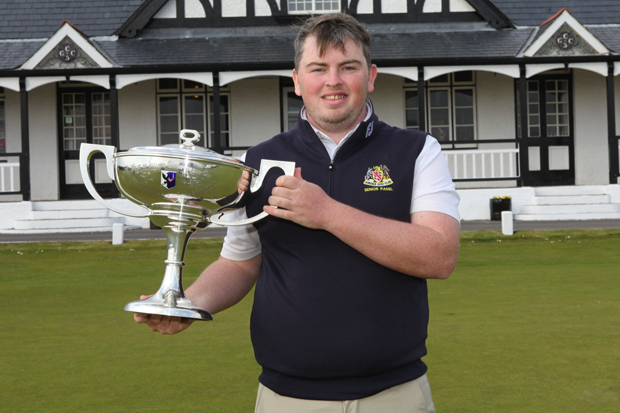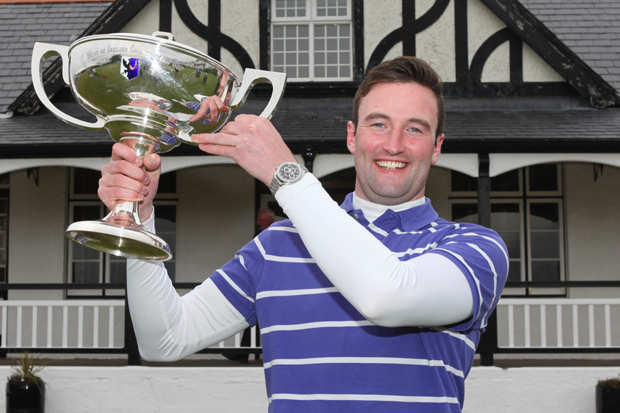 County Sligo is host to the first big amateur competition of the season, where no lesser figures than 2011 US Open and US PGA 2012 winner Rory McIlroy and three-times Major winner Padraig Harrington cut their teeth as young up-and-coming players. Harrington won his first senior title in 1994 at Rosses Point, while the new superstar of the game McIlroy was the youngest ever winner of the West in 2005 at the tender age of 15 and made it a double by holding onto the title the following year.
The first West was played in 1923 when L.P. Vernon defeated B.H. Cook 3/2. In the early years, the Championship has decided over 36 holes. Originally held in July, it now opens the Irish competitive calendar at Easter each year.
The event opens up with 36 holes of qualifying over two days on Friday & Saturday with the top 64 players advancing to the match play stages with the winner receiving the Gold Medal on Tuesday.
Year Winner & Club – Runner-up & Club
2021 Hugh Foley, Royal Dublin 275; L Nolan (Galway); P Coughlan (Castleknock) 280
2020 No Championship due to COVID-19 pandemic
2019 Caolan Rafferty, Dundalk 276; Arron Edwards-Hill, Chelmsford; Conor Purcell Portmarnock 280 (Cut 223)
2018 Robert Brazill, Naas bt Alex Gleeson, Castle 1 hole (Cut 150)
2017 Barry Anderson, The Royal Dublin bt Jack Pierse, Portmarnock 3/2 (Cut 151)
2016 Jonathan Yates, Naas bt Daniel Holland, Castle 2/1 (Cut 82)
2015 Dermot McElroy, Ballymena bt Eanna Griffin, Waterford 4/3 (Cut 153)
2014 Jack Hume, Naas bt Robert Cannon, Balbriggan 1 hole (Cut 148)
2013 Rory McNamara, Headfort bt Niall Gorey, Muskerry 5/4 (Cut 159)
2012 Harry Diamond, Belvoir Park bt Stephen Healy, Claremorris 1 hole (Cut 154)
2011 Paul Cutler, Portstewart bt Alan Dunbar, Rathmore 4/2 (Cut 151)
2010 Rory Leonard, Banbridge bt Eddie McCormack, Galway 2/1 (Cut 153)
2009 David Corsby, Royal Lytham & St Annes bt Shane Lowry, Esker Hills 19th (Cut 151)
2008 Shane Lowry, Esker Hills bt Desmond Morgan, Mullingar 2/1 (Cut 158)
2007 Joe Lyons, Galway bt Paul Cutler, Portstewart 1 Hole (Cut 147)
2006 Rory McIlroy, Holywood bt Paul O'Hanlon, Curragh 3/1 (Cut 148)
2005 Rory McIlroy, Holywood bt David Finn, Mallow 2/1 (Cut 147)
2004 Paul McDonald, Woodbrook/UCD bt Greg Bowden, Hermitage 1 hole (Cut 149)
2003 Mark Ryan, Grange bt Alan Dowling, Hermitage 3/1 (Cut 152)
2002 Stuart Paul, Tandragee bt Derek McNamara, Connemara 1 Hole (Cut 154)
2001 Michael McDermott, Stackstown bt Michael Hoey, Shandon Park 2/1 (Cut 153)
2000 Eamonn Brady, Royal Dublin bt Mark Murphy, Waterville 4/3 (Cut 157)
1999 (At Enniscrone) Mikko Ilonen, Finland bt Rory Leonard, Banbridge 4/2
1998 (At Enniscrone) Noel Fox, Portmarnock bt Pat Lyons, Cork 2/1
1997 (At Enniscrone) Jody Fanagan, Milltown bt Bryan Omelia, Newlands 3/2
1996 Garth McGimpsey, Bangor bt S Horkan, Walton Heath 2 holes
1995 Eamonn Brady, Royal Dublin bt Gary Murphy, Kilkenny at 23rd
1994 Pádraig Harrington, Stackstown bt Ken Kearney, Co. Sligo 2 holes (Cut 171)
1993 Garth McGimpsey, Bangor bt AD Pierse, Tipperary 3/2
1992 Ken Kearney, Roscommon bt AJ Morrow, Portmarnock 1 hole
1991 Niall Goulding, Portmarnock bt Rob Hutton, Ardglass 3/2
1990 Niall Goulding, Portmarnock bt AD Pierse, Tipperary 3/2 (Cut 160)
1989 P McInerney, Milltown bt Ken Kearney, Limerick 2/1
1988 Garth McGimpsey, Bangor bt C Carew, Waterford 3/2
1987 N McGrane, Greenore bt Enda McMenamin, Ballybofey 1 hole
1986 Paul Rayfus, Trim bt Enda McMenamin, Ballybofey 1 hole
1985 J Feeney, Chapel en Le Frith bt G Moore, Royal Portrush 1 hole
1984 Garth McGimpsey, Bangor bt Frank Gannon, Co. Louth 5/4
1983 C Glasgow, Donaghadee bt Garth McGimpsey, Bangor 2/1
1982 AD Pierse, Tipperary bt M J Malone, Belvoir Park 3/1
1981 Declan Branigan, L'town & B'town bt D Conway, Portmarnock 7/5
1980 AD Pierse, Tipperary bt Philip Walton, Malahide 3/2
1979 DC Long, Shandon Park bt AD Pierse, Tipperary at 26th
1978 BVM Reddan, Co. Louth bt Kenny Stevenson, Banbridge 3/2
1977 TBC Hoey, Shandon Park bt Liam MacNamara, Woodbrook 1 hole
1976 Declan Branigan, L'town & B'town bt Tom Cleary, Fermoy 5/4
1975 IA Elliott, Royal Portrush bt Declan Branigan, L'town & B'town 1 hole
1974 Mark Gannon, Co. Louth bt Eddie Dunne, Athlone 1 hole
1973 Des Smyth, Laytown & Bettystown bt Vincent Nevin, Limerick 2/1
1972 Vincent Nevin, Portmarnock bt BP Malone, Portmarnock 4/3
1971 RJ Carr, Sutton bt B P Malone, Portmarnock 1 hole
1970 J McTear, Scotland bt JE O'Leary, Foxrock 4/3
1969 RKM Pollin, Royal Belfast bt MJC Hoey, Shandon Park 1 hole
1968 DA Nelson, Royal Co. Down bt J Boston, Royal Co. Down at 20th
1967 RKM Pollin, Royal Belfast bt A O'Connor, Naas 1 hole
1965 RM Craigan, Malone bt V Nevin, Limerick 1 hole
1966 JB Carr, Sutton bt Rupert de Lacey Staunton, Castlerea 2/1
1964 BP Malone, Tullamore bt WA Kelleher, Douglas 5/4
1963 RM Craigan, Malone bt TM Duggan, Kilkenny 1 hole
1962 JB Carr, Sutton bt B O'Beirne, Portmarnock 7/5
1961 JB Carr, Sutton bt M Edwards, Shandon Park 1 hole
1960 JB Carr, Sutton bt Tom Craddock, Malahide at 19th
1959 WJJ Ferguson, Malone bt PJ Leyden, Spanish Point at 38th
1958 JB Carr, Sutton bt Cecil Ewing, Co. Sligo 4/3
1957 JA (Tony) Mahon, Muskerry bt John Fitzgibbon, Cork 3/1
1956 JB Carr, Sutton bt Cecil Ewing, Co. Sligo 4/3
1955 WI Forsythe, Malone bt TD Hegarty, Royal Dublin 2/1
1954 JB Carr, Sutton bt BJ Scannell, Woodbrook 9/8
1953 JB Carr, Sutton bt RH McInally, Sutton 1 hole
1952 JC Brown, Tramore bt NV Drew, Bangor 2/1
1951 JB Carr, Sutton bt Mick Ferguson, Dundalk 3/2
1950 Cecil Ewing, Co. Sligo bt Brud Slattery, Lahinch 1 hole
1949 Cecil Ewing, Co. Sligo bt Frank Webster, Carlow 5/4
1948 JB Carr, Sutton bt Cecil Ewing, Co. Sligo 5/4
1947 JB Carr, Sutton bt Cecil Ewing, Co. Sligo3/2
1946 JB Carr, Sutton bt BJ Scannell, Woodbrook 11/9
1945 Cecil Ewing, Co. Sligo bt Jack Burke, Lahinch 4/3
1944 John Burke, Castletroy bt Cecil Ewing, Co. Sligo 3/2
1943 Cecil Ewing, Co. Sligo bt L Howley, Royal Dublin 10/8
1942 Cecil Ewing, Co. Sligo bt GH Owens, Skerries 4/3
1941 Cecil Ewing, Co. Sligo bt JF McLoughlin, Royal Dublin 5/4
1940 John Burke, Lahinch bt WJ Gill, Portmarnock 4/3
1939 Cecil Ewing, Co. Sligo bt John Burke, Lahinch 3/1
1938 John Burke, Lahinch bt M Aherne, Claremorris 8/7
1937 JF McLoughlin, Royal Dublin bt Cecil Ewing, Co. Sligo 3/2
1936 John Burke, Newlands/Lahinch bt John F. McLoughlin, Royal Dublin 11/10
1935 Cecil Ewing, Co. Sligo bt John Burke, Lahinch 3/1
1934 John Burke, Lahinch bt Cecil Ewing, Co.Sligo 4/2
1933 John Burke, Lahinch bt Gerald O'Connor, Roscommon 13/12
1932 Cecil Ewing, Co. Sligo bt Gerald O'Connor, Roscommon 10/8
1931 AW Briscoe, Castlerea bt J O'Meara, Tullamore 6/4
1930 Cecil Ewing, Co. Sligo bt Clifford McMullan, Knock 4/3
1929 WG McConnell, Portmarnock bt EPJ O'Flynn, Muskerry 4/2
1928 AW Briscoe, Castlerea bt Cecil Ewing, Co. Sligo 1 hole
1927 HG McCallum, Troon bt AW Briscoe, Castlerea 4/3
1926 JL Crabbe, Foxrock bt WG McConnell, Dun Laoghaire 3/2
1925 WG McConnell, Dun Laoghaire/Portmarnock bt JD MacCormack, Hermitage 6/4
1924 JL Crabbe, Foxrock bt WG McConnell, Milltown 3/2
1923 LP Vernon, Co Sligo bt B Cook, Troon 3/2